How do I start a life in the van and on the road indefinitely?
One would assume that this step is preceded by a lot of planning and preparation.
The questions about the right equipment, a detailed packing list, travel guides and a route must be answered somehow right?
To us it was spontaneous and planned at the same time. After five months of thorough planning and hard work the van conversion was finally completed. Suddenly we were on the road as we just wanted to start our adventure. Of course our thoughts had circled around this day for a long time and it would not be correct to say that we had no idea. We knew that we want to drive south with the aim to spend the winter months in Portugal, southern Spain or maybe even Morocco. The route how to get there was undefined and the driven roads were determined by the weather. Starting a trip like this suits us. In the past we often booked flights to Bangkok without really looking at a travel guide before. By the time we got there we decided weather we wanted to spend the next couple of weeks in Myanmar, Vietnam or Cambodia. In the end the foundation of a journey is most important which includes a flight, maybe the first accommodation, an insurance and this time it particularly included our van.
Besides some small exceptions the start was just right for us. Too much planning and worrying would have meant more days at home. Plus in the end you know that everything is still learned best in practice.
After traveling through the southwest of Germany for a week, combined with some visits to friends and family, we headed to the south of France. Of course we drove on the roads next to the motorway because we didn't want to spend the money on tolls.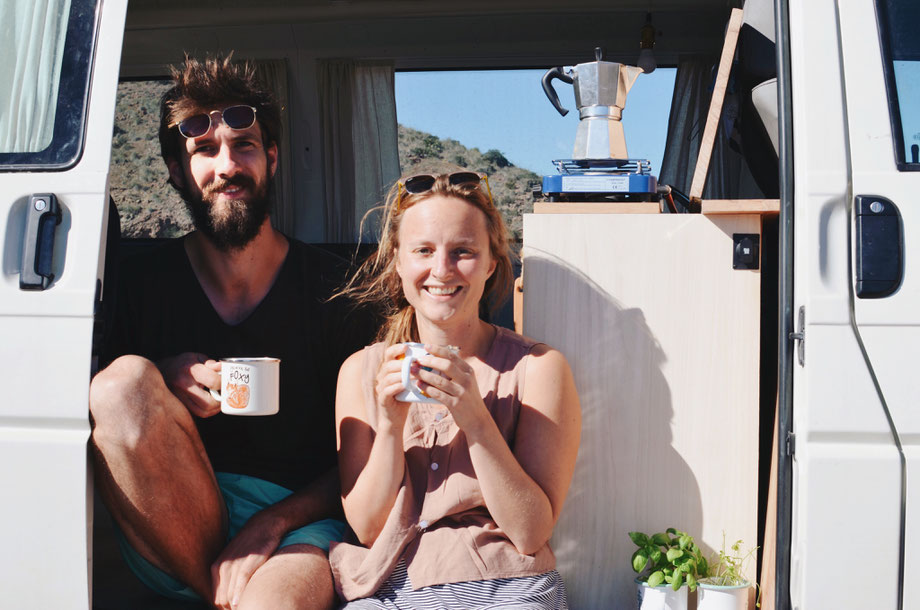 So how did our start into "Vanlife" and into a life "On The Road" go?
Let me start by saying this much: it was exhausting and not just romantic and characterized by a sense of freedom, but rather a wild roller coaster ride of emotions. On the one hand, there were the emotions of the last few weeks and months. The big farewell and the realization that we finally start the trip were on our minds. A few days on the road we could feel how the self-imposed pressure of the last months slowly fell off. Suddenly we were no longer busy with the conversion of the van. We now lived in our van and we were eventually able to examine our home on wheels and could enjoy it. For some people it probably seems crazy that we didn't once sleep in our van before the start of the trip or that we didn't do a little tour to try everything out. To be honest it is a little weird to us too, but somehow there was no time for that.
On the other hand, it was now time to create a life in the van and on the road, which was completely new to us. It took us about half a week to drive around 700 km from Lörrach (south Germany) to the south of France. 
After these days I had a similar feeling as if one didn't really get out of ones house for a week. That was a strange feeling, because we were constantly on the move. At the same time that might have been the problem. Our days were filled with car rides, refilling water cans, finding access to Wi-Fi, finding a place to sleep before it's completely dark, grocery shopping, cooking, building up and down our bed, setting up the table, finding a shower every now and then, planning routes, etc. As all of this was new to us and done for the first time everything took a little longer. We felt like we had to understand life on the road first and got to know it step by step. In addition, we quickly realized that the lifestyle in the van is a bit slower, because you simply need more time for some daily chores in a small space.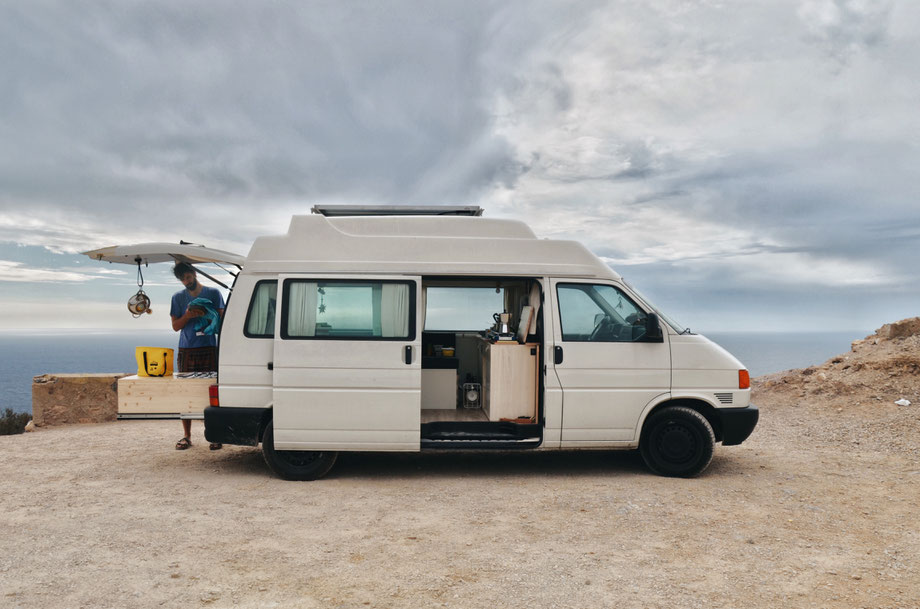 We have been on the road for about a month now. We discovered a beautiful area in the Valencia Community near Peñíscola and spent a couple of days in the city of Valencia. After we unexpectedly explored Cabo de Gata-Nijar Natural Park in Andalusia for almost two weeks. From here we continue to the south where we will meet a friend for a week. It feels right not to have everything planed out. In the past we often experienced that on a journey every day is new and eventually everything is different than expected.
We more and more get the feeling that we have arrived in the van and we find ourselves in daily routines. We know where to fill up our water tank. We know where and how to find good sleeping spots. We became a great team making the bed. Cooking goes faster, because we got used to the equipment. We got used to cold showers in the sea or a cold beach shower. Our van can be converted from a kitchen to a living room and a bedroom within a few minutes. In addition, there are a few "vanlife" rules that we have set up for ourselves and we always try to stick to it. Here are a few of our rules: before we start a new thing we put unnecessary things away. It takes a bit of discipline, but if you keep that up you will be rewarded with less chaos and subsequent lavish mess removal. During the week we try to make the bed before 8:00 am, whether it's comfortable in bed, because it's cold outside. Making the bed feels important to start the day productively. We try to find a place to sleep before it gets dark. Thus we arrive at the latest at dusk.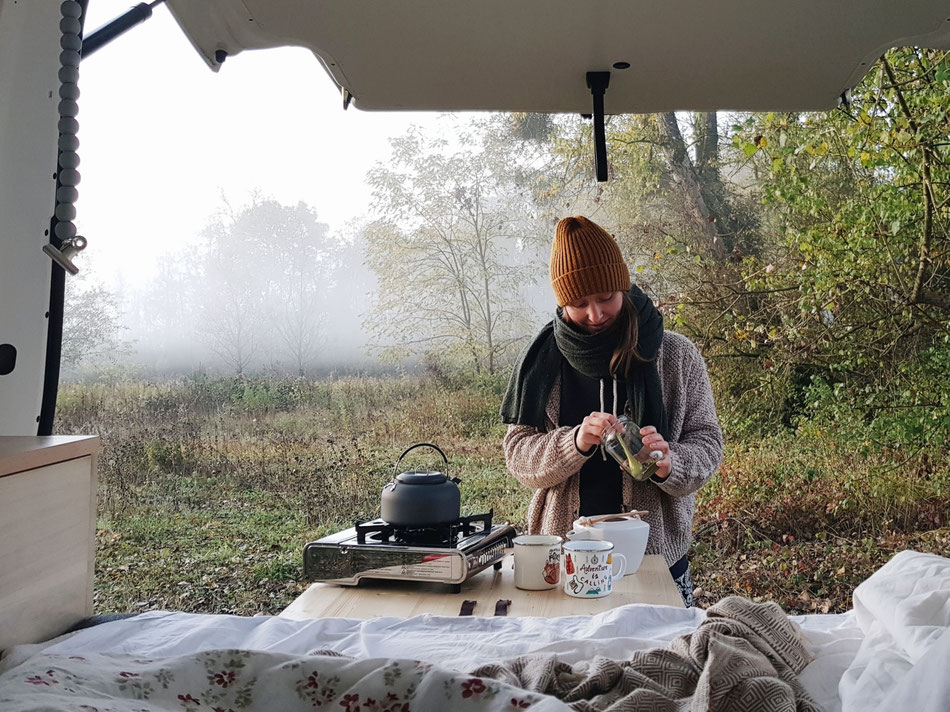 Life on the road and in the van is so much fun. We've never seen so many sunrises or countless stars and shooting stars out of bed. I get a very different approach to lonely places in the dark and loose my fear. We have more time for the things that really matter to us, even if the days go by in the air. We spend many hours in nature and enjoy the sun. Our desire to see more of the world, to be free and to have the opportunity to work on our own projects is fulfilled. All this with a new view, whenever we want and our home always with us, because we have an endless garden in front of our van.
Follow us on Instagram
@wander.horizons          Chasing dreams. Craving adventures and more travels.