At the beginning of our travels, we didn't expect that we have to take apart the entire interior of our van till the body shell after only four months.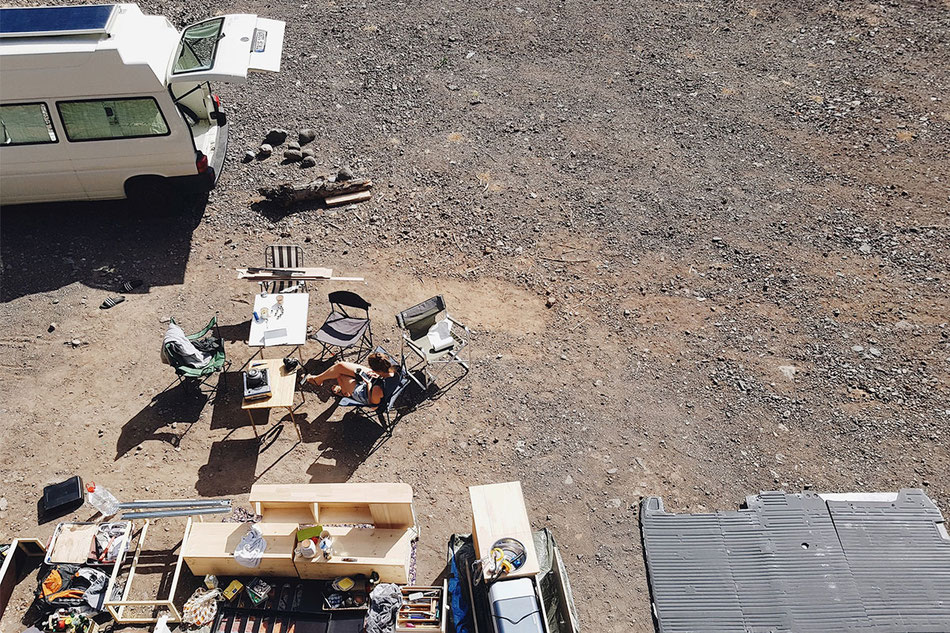 Early February we discovered that there was water running out from under the step of the sliding door. Very confused we started to search for the cause. Quickly we realized that our fresh water tank had a leak. Approximately three liters of water had leaked and had somehow found its way under the bottom panel already. During the conversion we had actually sealed the whole bottom panel with silicone to avoid such a scenario. However, we had to find out that water runs through the smallest cracks and it ran through the holes of the fittings and the ventilation. 
As we didn't take this into consideration enough before plus some bad luck with a leaking water tank we ended up in this bad situation. It quickly became clear that we had no other option but to take apart the entire interior. We really wanted to make sure that we got rid of all the water. So that no rust appears on the bottom panel in a few weeks. Due to our well-equipped tool box we are prepared for many situations on the road. The following day we took the whole van apart. When we built the interior we saw each piece of furniture as one module, which made it so much easier to take everything apart to get to the laminate, the bottom plate and the floor insulation. 
At the time we were on La Gomera. We spent the day in a secluded bay where we had plenty of space and no one felt disturbed by our little renovation. Also the expected rain waited until the next day. For a couples of days already we were hanging out with our friends Margarita and Martin. A german couple also traveling with a VW van through Europe, who we met on Tenerife. The two were a great help as well as they went shopping for us and cooked a delicious dinner for everyone at night.
It was a strange feeling to completely disassemble our home on wheels and to see everything lay next to the van. At the same time, we noticed that the van conversion is thought out quite well. We managed to get through it in one day. It was a challenge, but it made us realize that all the hard work and detailed planning which we put into the conversion was worth it.
So now the journey continues. Meanwhile, we are back on Tenerife. We spent a nice week with Carstens parents, who came for a visit. Now we enjoy another week with our friends Rilana, Daniel and her daughter Lotti and also our friend Vossi joins again for a few days. On the 9th of March we are going to take the ferry back to southern Spain from where we will finally make our way to Portugal.
Follow us on Instagram
@wander.horizons          Chasing dreams. Craving adventures and more travels.