In mid-March we left the Canary Islands and took a long ferry ride back to southern Spain. We spent almost 60 hours on the ferry and comparison to the journey there we had a very rough sea. Somewhat and quite shaky on our feet we reached the Spanish mainland in Cádiz. After we had gotten some rest from the ferry ride and felt ready for a new adventure, we made our way to Seville a few days later. From now on we drove west to Portugal but first we wanted to explore Seville. 
Seville is the capital of Andalusia and is considered one of the most beautiful cities in Europe. We didn't want to miss out on that and explored the city for a weekend. Impressive architectural history, narrow beautiful streets and hip neighborhoods can be wonderfully combined in Seville. Since we had missed colorful lively cities on the Canary Islands, we really enjoyed our time in Seville.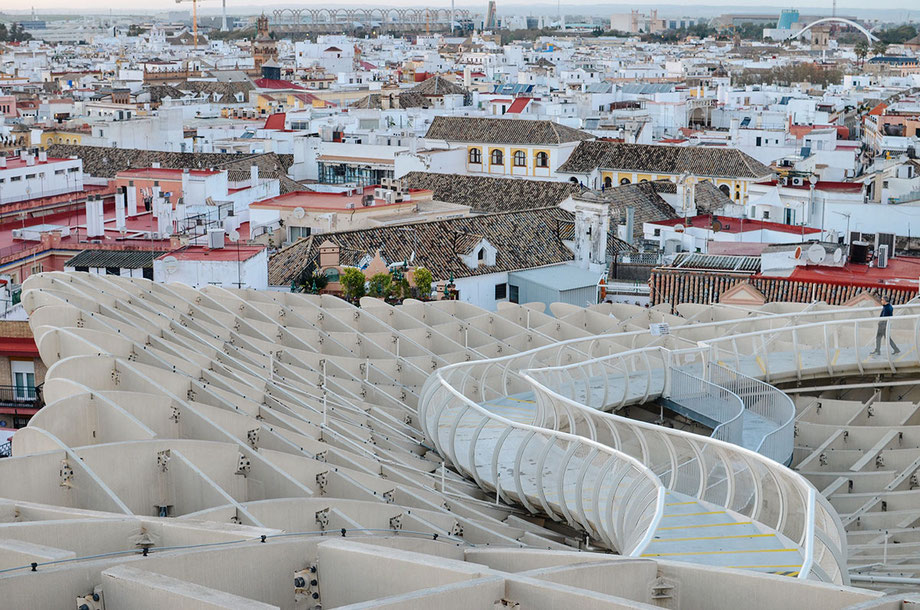 Just in time for a bad weather front we drove to Portugal. The bad weather was not bad at first, because we were looking forward to a new country. Above all we were excited to finally make it to Portugal, which was one of the few real plans we had at the beginning of our trip. Neither I nor Carsten have ever been to Portugal, which makes the visit even more exciting. For us, another travel destination means a lot of new inspirations. You get to know local traditions, food, landscapes and hear the sound of another language. 
First, we explore the south of the Algarve with its stunning coastal cliffs, bays and beaches, which extends over 155 km. Around the well-known beach Praia da Marinha, which is counted among the 100 best beaches in the world, we enjoyed the view of the breathtaking cliffs surrounded by clear turquoise sea water for the first time. Here we were lucky and could spend a beautiful day in the sun.
Unfortunately the bad weather persisted and we spent a lot of time in the van. It is good for nature to get some rain, but even the Portuguese are slowly complaining about such a bad March.
However, this kept us working on our projects. For the last couple of months Carsten has written an e-book about how to convert a van into a campervan. The e-book addresses many information, tips and tricks that you need for a successful campervan conversion. You will find the e-book on our homepage soon.
Follow us on Instagram
@wander.horizons          Chasing dreams. Craving adventures and more travels.